Hey everyone! I know I've been M.I.A. for a while, but I am gearing up to get my shop going again!
I have a few things on my shop right now, but am adding more soon! In addition to knitting woolies and sewing shirts, I am going to start selling some fun toy food! I created lots of different little patterns a while back and have been sewing like crazy to prepare for our new Family Childcare opening this year!
Yes... this crazy family with 6 kids is going to take in MORE kids and we are really excited about it! We've been to our orientation class, got CPR/First Aid certified, the Fire Marshall has paid us a visit and the woman from Licensing will be here Thursday morning! This is happening faster than we thought!!
But back to my shop.
Here is an idea of some of the toy foods I'll be offering. For now, it's a Deli theme with lots of sandwich making stuff! Check out this cute video my son made of one of my bulky sandwiches...
Some fun sandwichy stuff! I'm selling bulky rolls, tortilla wraps, lettuce, spinach, pickles, tomatoes, cheese slices, cloth napkins and more!
Here's a close up of the pickles & greens! I love my little leafies!!! And my kids have a blast playing restaurant with all this fun stuff to stack!!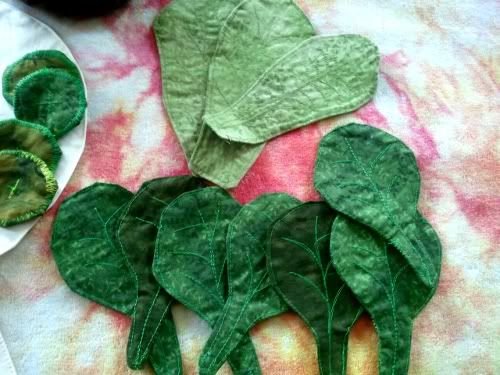 I'm also going to be selling more shirts to match to woolies! Here is one style that I made using the fun
"Frogs Legs and Ponytails" pattern, "Caroline"
.
I am listing it on my shop with the choice of any of these colors to add a scrappy pair of woolies!
I look forward to sewing and knitting for you all! I am a busy Mama, but I am going to try to post more often and work hard to make my shop really colorful and fun!
Happy Spring & God bless you all!
~ Bridget