It may seem like "Squeakin' Cheeks" has fallen off the planet, but I've just been really busy! I thought I'd share a little bit of what I've been up to!
First off, we've been busy trying to keep away the Maine winter blues (although it's been a really mild winter so far!) and have been eating really healthy (actually just started a vegetarian lifestyle!) and we try to get fresh air as much as possible.
Here is a picture of me and my kids during a family walk the other day! We were all freezing because it LOOKED nice but was really pretty cold and horrible after a while!! haha My youngest son (in the front) is growing his hair out to look like the lead singer of "Third Day", so don't mind his crazy locks!!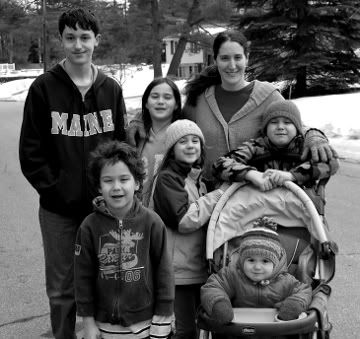 And the day after Valentine's Day, my oldest daughter and I celebrated our birthdays! Her birth on Feb. 15th of 2001 was the best birthday gift I had ever received!!
She turned 11 and I turned 23!! ... I mean 33 ... oh ok ... 43!! ugh.
Little Miss Squeaker had her 23 month photo taken (by Mama) on Feb. 16th and wore her new fun shirt and capris with her handmade baby legs! (all made by ME!)
I love how curly her hair is getting! mmmmmwah, baby girl!!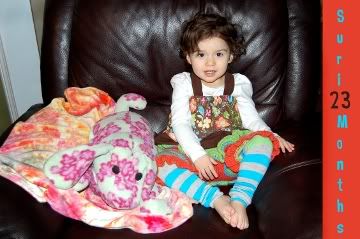 Here's are the baby legs as I was sewing them :) Got the knee highs at Target so these little leg warmers were so much cheaper than buying the actual name brand!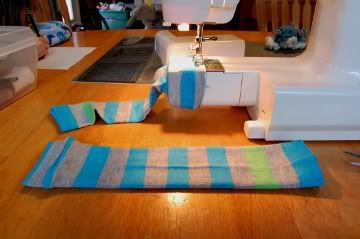 Now for some shop talk.
I am working hard (when I have time!) to put together some American Girl sized doll outfits. (and the little shirts would fit some baby dolls too! AND other doll sizes because of the shirred tops and long ties!)
The model is my daughter's Madame Alexander doll which is the equivalent to AG dolls :)
Headband and shirt... (still need capris and sandals!)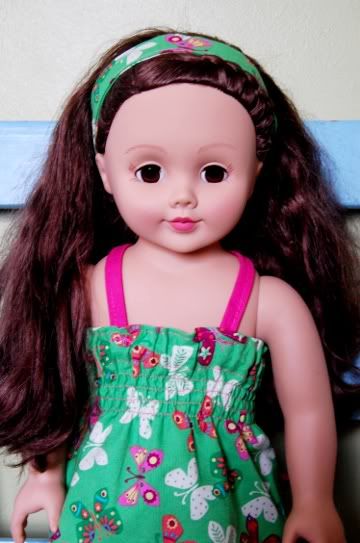 All this outfit needs is a matching headband and sandals. I have made a few sandals for my girls, but none to sell yet! BUT I do plan on it!!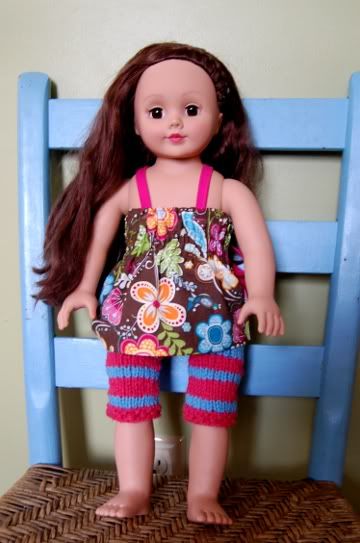 Here's a better view of the handknit capris. They were created using Cestari Fine Merino 100% wool and I added some elastic thread on the inside of the ribbing for extra snuggability! The capris stay up fine without the elastic, but I thought it couldn't hurt!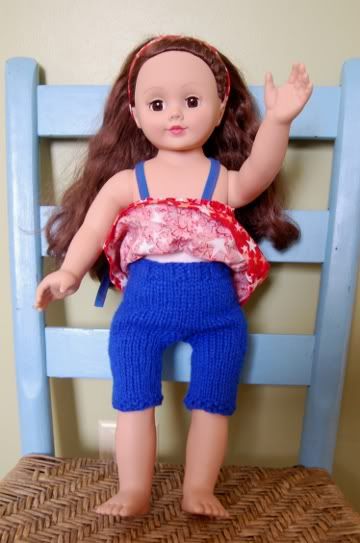 I'm also selling dresses. I'm not sure whether I will knit woolies to go underneath, or not? I like the way they look without anything on the legs, but I might add a cute little pair of underwear or something!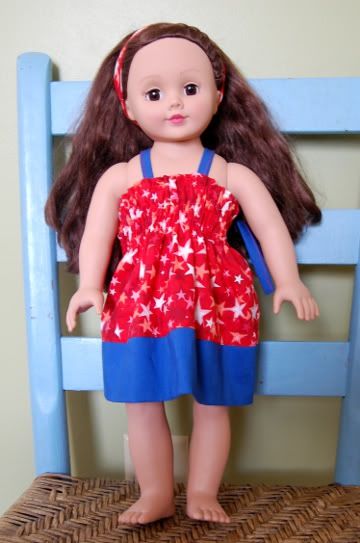 Well, my friends, I guess that's it for now! I have a wool order due in today or tomorrow and have a few customs to knit up, but I am going to be finishing these sets soon and stocking my shop! I've really excited about it!!
I'll be back!!

Bridget