If you look up at my new logo, you'll see that I FINALLY chose a slogan!

I ran a contest back in April (I'm sorry that it took me so long to decide!!!) and although I didn't choose an exact idea from the people who left comments, I am still going to give a little gift to the person who's entry was the basis for my shop's new slogan!
I also wanted to make sure to add a bible verse in my logo to show that I am a Christian who has a Mama's heart for children! Our children are "rewards", THAT is for sure! I praise the Lord for my children everyday!!!

OK...so back to my slogan winner...
Serena posted an idea which she thought was "pretty plain" in comparison to all the rest, but it really suited me! She wrote, ""handcrafted with love" sounds so nice!" and I honestly put so much "love" into my work, that I knew I had to have that in there! I care about my customers and want my knits to be a blessing to their little "lambs". I say "lambs" for 2 reasons. One... because I knit with wool. That's an easy one. hehe. But then the other is because, being a Christian, I consider my children as wee little sheep that I am leading. I am training them to grow up to be sheep that will follow Jesus when they are older! ♥
I did NOT come up with the slogan alone. Raising 6 children tires my brain, so I called on my bestest buddy, Katherine. I KNEW she'd come through for me!
She went to my shop, read my "About Us" page and gave me a zillion ideas! This is part of my info...
"Most of all, we are a family that loves the Lord and our goal is to run a wholesome, upright business that glorifies God! Although I am the knitter and shop owner, I say "we" and "our" because if it wasn't for the support of my Husband and my awesome kids, I wouldn't be able to have the time or energy to work at home!"
Kath posted her ideas to me through Facebook messages so I could see them all laid out in front of me. Then we talked and talked on the phone to come up with the best slogan to fit the person I am and my desires for Squeakin' Cheeks!
BTW, this is Katherine & little ol' me, when she came up to Maine to visit this summer! She lives in Alabama, but is also a native of Maine... LOVE YOU, KATH!!! ♥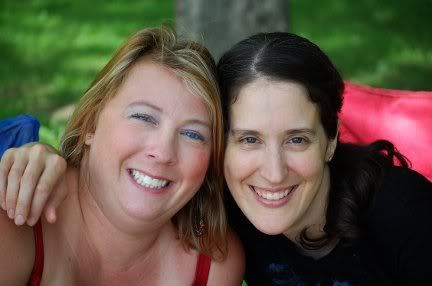 So... I am going to give both Serena & Katherine little thank you gifts! I am not really exactly sure what I am going to include in the gift, but they each will get one of these little guys for sure... (don't ask me why, I was just in a fishy kinda mood the other day!! lol)
I didn't knit these
... I took the photo from the website! I'll surprise my winners with what color they get! If anyone wants to make this quick and fun knit (uses up leftover cotton!) it is called the
Wishy Washy Fishy Tawashi
... even the name is cute!!

So...there ya have it. My new slogan. Now I can move on to bigger and better things!!
Have a great end to your summer, and make sure to contact me at: squeakincheeks@hotmail.com if you have any questions or would like a custom!!
:) Bridget