Want to learn some
Swagbucks
and
iRazoo
Tips and Tricks?
I know this really isn't "Squeakin' Cheeks" shop related, but I have to share with you about how much fun I'm having with
these fun search engine
s
!!!! You should try them and earn free money to buy things for your kids, yourself, your family, gifts, etc! It is
NOT A SCAM
! Really!!! Especially for those of you who are home a lot, like us SAHM's, it can be fun and rewarding!
If you haven't heard of them, they are free search engines like Google! You search and earn fake money that you can buy real things with! Click the photos and sign up to start using Swagbucks & iRazoo's free search engines now! How can you beat earning as you search! (I'll explain more in a minute!)
Here are some tips on how to get lotsa bucks :)
Bear with me, because it may seem involved, but once you understand how to navigate, these are
simple
things you can do to earn more through the day!!
You'll want to
download the swagbucks toolbar
first of all (you don't HAVE to,but it makes life easier) This is what I do every morning. I open up swagbucks.com home page (which gives you ONE buck for using the toolbar the first time each day - I have it set as my homepage) and then from the home page, I right click on swagbucks tv (on the left side) and open that in a new tab. I earn a lot of bucks from that, and don't even really watch it much, just leave it running through the day. (I'll tell you the trick to that in a minute)
Once I've chosen a tv show to have running, I go back to the home page again and open up the "daily poll". You can also access this from the toolbar under "Earn". Place your vote and that's ONE point.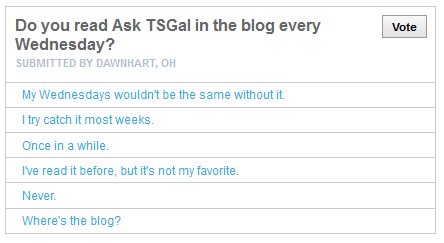 Then you can click "Invite & Earn" and invite a friend to join and you'll get 1 sb!
Then go back and click on the "NOSO" tab and skip EVERY offer: (sometimes you have to just skip once...sometimes a few times)

You might get a captcha code like this before getting your 2 swagbucks... just type in the code, as in this one, "case closed"...
Here's what the $2 buck looks like...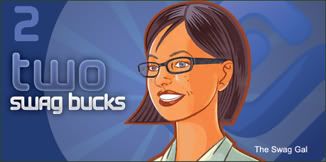 Then go back and click on "trusted surveys" and you'll get ONE point just for clicking it. (I never do surveys because I've tried and I'll do a bunch of questions and they'll say I don't qualify! too time consuming!!)
That will have given you your "dailies" for the morning. Once you get used to it, it only takes a couple minutes.
A new thing they added this month was "Ad Rewards". From the swagbucks.com main page, you look in the middle area and you'll see:

Click on that box and it will ask you 3 questions before letting you know if there are videos you can watch... answer them like I did below: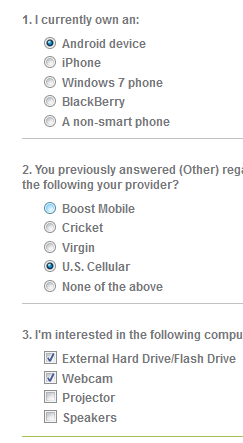 Then you will either be told there are no videos or it will show you the videos you can watch....like this:
Click on the videos one by one (word of caution to those with children, sometimes the videos have women not dressed modestly, people acting seductive, etc...so I make sure to do it when no children are present!) and as you watch the videos, you will see a number appear and then after a while you will see another number. They look like this: (the 7 is one of the numbers I had to remember)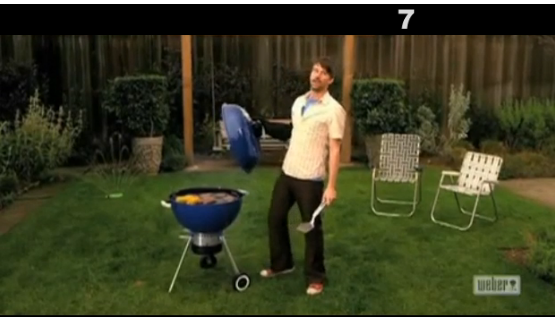 Once the video is done, it will give you a box to type the 2 numbers you saw...like this: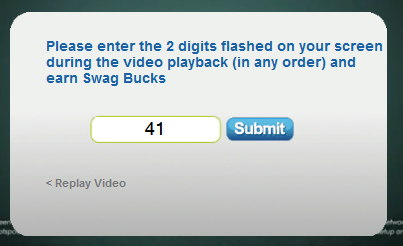 Then you just finish watching all of the videos in that same manner!
After I've done that, I use the Swagbucks search engine and I search "irazoo" and open that up in a new tab. Later on in this post I explain my iRazoo tips and tricks!!
Through the day, make sure you search EVERYTHING using either search engine (the normal places you may go like "facebook" or "yahoo mail"), at least until you've won some swagbucks or iRazoo points (don't overdo it though, if you don't win after a few tries, close out and try again in a few minutes or they could give you a time out for up to 24 hours!).
Then if you don't like the toolbar, you can switch back to google or your favorite toolbar after winning, but I've gotten used to it and use it most of the time! But if you'd rather use another engine, you can then go back later on (most people get bucks 1-3 times a day... sometimes 4 and rarely 5) and search again! I usually win a search in the morning, afternoon, and evening. If I search early enough, sometimes I get 4 searches through the day.
You'll know you've won Swagbucks as soon as one of the bills show up above your search results like this: (these were special bucks you could win before Valentine's Day)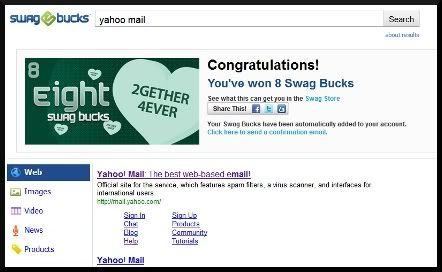 **Make sure that after seeing you've won a swagbuck, that you look to see if there is something you need to enter for a security code. It's called a Captcha code**
This is what iRazoo's points win looks like:
(I'll get into iRazoo tips and tricks in a minute!!!!)
Then I go back to swagbucks.com and go down to "facebook" and right click that and open it in a new tab. I go there through the day to post what I searched to win (sometimes it's funny, like instead of searching "facebook", I may search something like "oogie boogie" and win some bucks! haha) and to check and see what others have searched to win. Sometimes you can win by searching the same as they did. You can also find out there if there is a code because people will say things like "Thanks, TSG (The Swag Guy or Gal) for the code!" (I'll tell you more about that in a minute!) Some people share different special offers they've done and things like that too!
So back to Swagbucks tips and tricks for
SwagbucksTV
. There is a meter that runs at the top right of the screen as you watch videos. Each short video has a short ad at the beginning and then once the show starts, the meter will go up 10% for each video. You'll notice, in most cases, that the meter changes after the show has played for about 45 seconds. Once it changes, say, from 10% to 20%, you can click on a new show and start the process all over again without watching the entire show! Once the meter goes past the 90% a box will pop up saying you earned $3 swagbucks. Click out of that and choose a new video and start all over! You can do this all day and earn up to $75 swagbucks a day. I usually only end up getting $20 - $25 a day, unless I really focus on it through the day. My kids will walk by the computer and click a new video for me (hehe). Although I don't actually watch a lot of swagtv, you'll find that some of the clips are VERY interesting! (My kids love the "pet and nature" and I love the "food"! hehe)
The codes
. If you
download the "swidget"
(on swagbucks.com homepage, look down on the left side until you see "widget", click that, and follow the directions to "get widget") you can put it somewhere on your blog or another social network.
(you can see mine over on the right side of this blog!)
If you see on swagbucks facebook that there is a code out, check your swidget and see where it is! There is a place on swidget that says at the bottom "Swag Codes" and then you click the box that says "Check if there's a Swag Code". Sometimes it's as simple as going to the blog (also through swagbucks.com) and checking the entries. They often will be at the end up a blog post like "Have a good day! And go and enter "Swag1R3TTttt" to get 5 swagbucks"... so you'd copy and paste that code over at the swagbucks.com page over to the right where it says "enter your swag code". Other times it's a little trickier and you can check facebook to see if anyone has clues to help!
Once you have earned 450 swagbucks, you can get a $5 Amazon gift card (the best deal!) You can get up to 5 of each denomination in a month. SO... the best value would be to get five of the $5 cards and then if you have money leftover, save it for a few months and then purchase your five $5 cards AND a $50 card (the next best value). If you sign up under me, just let me know when you have enough to buy one, and I can walk you through the simple steps! You can email me at squeakincheeks@hotmail.com! Once you've purchased it and verified through your email, it takes a couple weeks to show up. Then once it does, you take the code to Amazon and add your gift card! They never run out and you can keep piling them up and use them for whatever you want!
AND make sure to
share anything you earn
on Facebook, Twitter, etc. because if someone clicks on your links, you'll get their "referral" and will earn what they earn up to 1000 swagbucks!! That really helps too!
And if you have your birthday in your profile, they will give you $50 worth of bucks on your special day! I just got mine on Feb. 15th! Woo! ...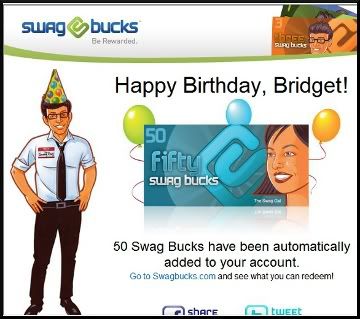 When you go to Special Offers, make sure to watch any videos that they offer for 1 or 2 bucks. Sometimes you can watch them a few times and earn more! And on the home page, swagbucks.com, you'll often see videos worth 2 bucks (located in the center area of the screen). Also make sure to check out any of the offers! I've done many trials (just make sure to mark on your calendar when you have to call to cancel!!!) and that has gotten me some good bucks! You can also get bucks for downloading games, "liking" something on facebook, etc! Just keep your eye out!!
Now onto iRazoo tips and tricks!
OK... so when I go to the tab I have open for iRazoo, the first thing I do is start searching a word that is simple like "Pea"....really haha. I keep it really simple and try to finish this part ASAP! (since what you have to do is search 15 sites and recommend them to get a total 0f 150 points each day!)
You can only rate 3 sites from the same word, so I take advantage of it and rate the first 3 sites. You can see the top 2 are highlighted in pink because I rated them but have one more to go for the word "pea"...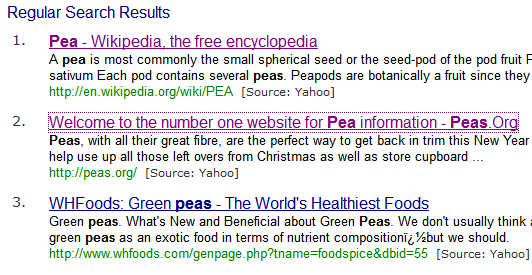 After clicking on the site, you will see this at the top right...

You do like I did, and write a "comment" like "great site" or "nice" or "horrible" and then either click "yes" or "no" depending on if you'd recommend it or not. Then you will see a captcha like this: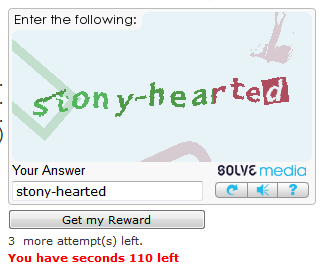 Type in, as I did, the words you see and click "Get my Reward". You will then see this (like one I did for searching and recommending an "elephants" site... it lets you know you got 10 points for your rating: (you can either keep track of all 15 you get 10 points for, or as soon as you see "0 points added", you'll know you've done all 15 for the day!)

If you've already done the 3 searches for one word, you'll see this beside the "10 points added":

If while you are searching for your 150 points, you see this:
You'll have earned search points (which you can do up to 8 times a day, I believe! ~ I usually get about 6) Just enter the captcha and continue clicking and recommending as before. That doesn't affect any of the 10 pointers!
After earning my 150 iRazoo points, I click on "offers" to get 5 points...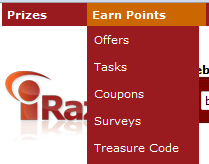 You'll see this:

And as for Swagbucks, you can click on offers like "gambit" and "RadiumOne" to see if there are any videos AND you can try different offers, but I just like to stick to mainly searches and videos to keep it simple!
Then, make sure to visit iRazoo here and there through the day because usually you get points very fast for searching and can earn a good amount in one day to add to the 155 daily! The deal with iRazoo, is that when you reach 3000, you can buy a $5 Amazon Gift Card (or save toward other things, but I like to just keep racking up the AGC's!!!!) You just go to "Prizes" and "Prize Catalog" and it's usually on the 2nd page. Just follow the instructions for ordering. It takes a little longer to post than Swagbucks, but really... who's in a hurry? NOT ME when it comes to FREE MONEY!!! haha
Let me know if you have ANY questions! Just email me at squeakincheeks@hotmail.com! I hope my Swagbucks and iRazoo Tips and Tricks have helped! It is so fun and rewarding if you take the time to do the simple steps to earn extra bucks!!! Have fun!! :) Bridget
Remember to click one of the links to sign up to either Swagbucks or iRazoo and sign up under me!!! Then make sure to encourage others to sign up under you!!! Happy Searching!!!